Let me just get this off my chest before we go any further. I LOVE Daily Cooks Challenge. This probably shouldn't come as a surprise to those who know me, put me in front of anything vaguely food related and I'll be engrossed; Britains Best Dish, Dinner Date,
the This Morning 11.55am 10 minute cookery section... I could go on. Anyway, the aforementioned gem is one I love to race home for. If you haven't heard of it, that's cos it's tucked away on itv3 (channel 10 on Freeview, who knows on Sky and all that malarky) and is on from 4.10-5.15. It's hosted by Worrell-Thompson and features different TV chefs each week including Merrilees Parker (why doesn't she have her own show?), Aaron Craze (down to earth and lovely) and Gino D'Campo (cue oh so predictable and embarressing swooning) to name a few of my favourites. They cook to impress celebrities and I just LOVE it!
In case you're wondering, there is a reason for this impromptu rant: I've been meaning to try out one of the programme's recipes for ages and I finally got round to it a couple of weeks ago. I plumped for the Seafood Marinara Parcels and served this after some tapas style starters of Ensaladilla Rusa and Prawn Tempura. I've written out the pasta recipe that I ended up doing as I changed the original according to my own ingrediants.
My mum said mine was tastier than Casa Carlos's! Praise indeed =)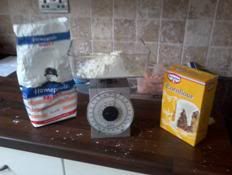 75g cornflour
75g plain flour
1 egg
6½ fl oz sparkling water
Deep heavy-bottomed pan a third filled with vegetable oil
50g plain flour
King prawns (as many as desired)
Chilli sauce, to serve
Mix the cornflour and flour together. Make a well in the centre, add the egg and sparkling water and whisk. You can now cover this batter with cling film and put into the fridge until you wish to use it.
Heat the oil (you can test if it's hot enough by dropping a bread crumb in it and seeing if it turns brown).
Here I'd advise you set up a conveyor belt like I did:
Pick up a prawn, dip in flour, then in the batter then drop in the oil. Do this quickly with a batch of about 7, then add them to the hot oil to deep-fry in for 2-3 minutes, or until crisp and golden. Lift out with a slotted spoon, drain on kitchen paper, then serve immediately.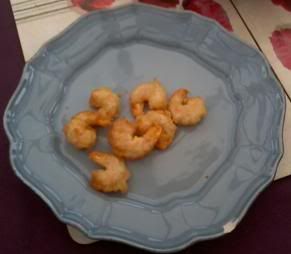 I'm afraid these crispy little morsels were so popular I only managed to photograph a few! A bit mauling to cook though as you can't leave the oil at all because you end up with burnt bits of batter in it, rendering it unuseable. This meant I was stuck in the kitchen whipping up more and more prawns, while my mum and sister sat at the table demanding more and more prawns! Greedy buggers!
Seafood Marinara Parcels:
200g pasta shells
4 tbsp olive oil
1 onion, finely chopped
2 garlic cloves, crushed
2 sticks Celery, finely chopped
50g mussels, cooked and shelled
50g small prawns, cooked and peeled
king prawns (a few for each person)
100g cod cut into thin slices
125 ml white wine
400 ml passata
1 lemon, zest and juice
2 pinches dried red chilli
1 tbsp oregano, chopped
50g Mascarpone
(plus extra to serve)
1) Preheat the oven to 180°c. Prepare 30cm squares of greaseproof paper for the parcels. 2) Cook the pasta for 6 minutes; it should not get to 'al dente'. Drain and toss with 2 tbsp of the olive oil.
3) While the pasta is cooking, heat the remaining olive oil in a large frying pan over a medium heat. Add the onion, garlic and celery. Pour in the wine, add the passata, lemon zest and juice, chilli, oregano and mascarpone, reduce until thick. Then add seafood and fish, cook for 2 minutes. Remove the pan from the heat and stir in the pasta.
4) Place the fish pasta in portions in the centre of the prepared sheets and wrap up to make neat packages, place in a baking tray and bake for 10 minutes.
5) Serve with a blob of marscapone.
This pasta was such a hit even Bob wanted a taste!
I'd say the only improvement I would make on this recipe next time is that I'd add a couple of tbsp's of the pasta cooking water to loosen it up a bit, as the end result was a little 'claggy'. All in all this was a thoroughly enjoyable feast and I highly recommend these recipes, if you have any questions do feel free to ask!