Carbs. Wonderful, satisfying carbs. Oh how I pity these crazy 'no carbs' dieters! I have no idea how they do it.
This post will focus on the humble potato. If pushed I'd probably say my favourite way to serve them is in the form of a creamy daupinoise, but this is often far too rich an option for some recipes. That's why I decided to start researching some more interesting side dishes to add to my repertoire.
I was particularly eager to find a tasty alternative when I came across
this lamb recipe
on a
favourite blog
of mine. It was a hungover Sunday (I'd been watchin Tom Jones the night before, I do like a bit of variety in my live music experiences!) and when I saw this recipe I knew I had to give it a go. Usually I see these ideas and then never actually get round to making them, but something about the juicy, fatty lamb and the light, in-season vegetables seemed to match my mood and the beautiful weather we were having perfectly. Note: I hadn't cooked with broadbeans before; podding and shelling them took a while but they were definitly worth it. Plus me and my mum could have a competition of who could shell the most =) Really enjoyed the combination of those, along with the rocket and peas.
Now when it came to the sidedish, the original poster hadn't had much luck. So I had a big delve into my cookbook cupboard and emerged with an old favourite:
The Good Housekeeping All New Cookbook
. It's from 1995 and so is a little dated, but the variety of recipes is vast, the pictures plentiful and it's full of little forgotten gems. I chose this potato recipe as I felt the mint would obviously compliment the lamb, and although it involved cream and butter I felt there wasn't enough to become too rich and change the summery feel of the dish. Anyway here's the recipe:
New Potatoes with Creamy Mint Butter
Ingredients:
(serves four)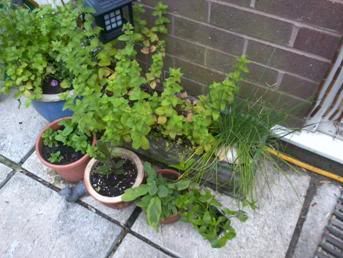 25 g butter, softened
2 tsp chopped fresh mint (from my little herb garden --->)
575 g small new potatoes
salt
1 tbsp vegetable oil
3 tbsp crème fraîche (oh how I love thee)
Method:
1) Beat together the butter and mint. Spoon on to greasproof paper and shape into a neat round. Chill.
3) Heat the oil in a large non-stick frying pan. Sauté the potatoes over a high heat until golden brown.
4) Lower the heat and add the crème fraîche and chilled mint butter. Serve immediately.
This meal was pretty much spot on, I'll definitley be adding it to my new
recipe collectors moleskine
I got for my birthday! The lamb was succulent and the potatoes really hit the spot. They were very popular with the family with my sister requesting them again, and she isn't usually very fond of new potatoes. I've also made them again as a side to a Greek dish, but swapped the mint for oregano.
Do you have any potato dishes you've come across that you'd like to recommend?