I, like many of the food bloggers I follow, try to avoid restaurants that are part of a 'chain' as I often find they can lack in character and imagination. After a few particularly bad experiences in a row (including a mouldy banana, a variety of hot meals that were served cold, overcooked steak and servings of clearly microwaved pre-portioned cack) I swore off these branded restaurants altogether. However I've heard excellent things about the
Miller & Carter in Parbold
(used to be The Wiggin Tree) so my sister and I decided to give it a go.
I've always loved the location of this place; sat atop Parbold Hill which provides magnificant views of Wigan, Ashurst Beacon, Liverpool, Skelmersdale, and even Blackpool Tower on a clear day. The ice-cream van opposite is perfectly placed for when you fancy a cheap dessert and the rural setting is a beautiful backdrop for a weekend dinnertime treat. The restaurant itself is dark with lots of square lines and sturdy wood, reminiscent of a Revolutions Bar, I feel. Not really my taste but it works.
The main menu seems full of hidden treats, I was quite excited and tempted by many of the dishes, and the descriptions were very detailed so I knew exactly what to expect. There's also a very affordable daytime fixed price menu offering some of the simpler dishes at £2 per starter/dessert and mains for £7-£9.
Here is where the revelations start.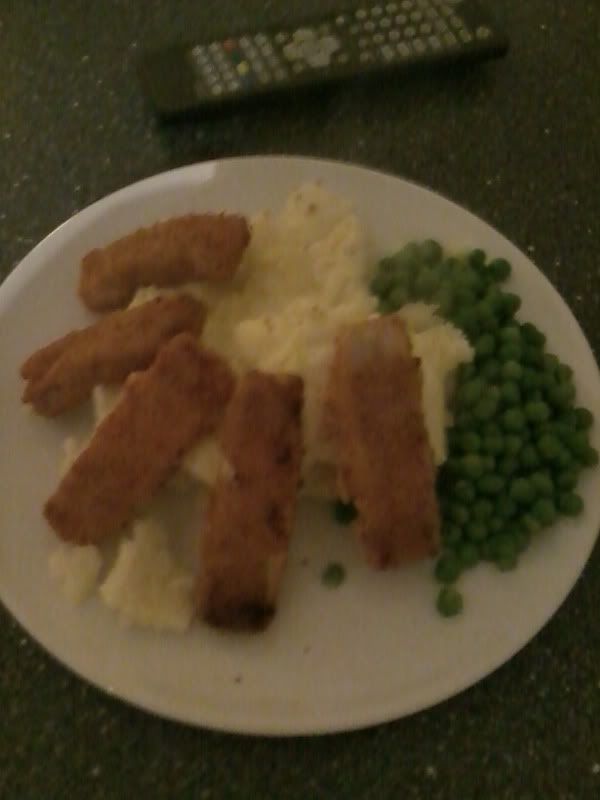 I'm sure I'm not the only 'foodie' (can I call myself that? I'm sure my friends will agree that I can) to indulge in some guilty food pleasures now and again. Those favourites you have that may be ridiculed, looked down upon and are probably far from classy, but to you they can't be beaten when you're in that certain mood. One of mine is fish fingers, peas (or sweetcorn!) and mashed potatoes with lots of butter and black pepper; top class comfort food.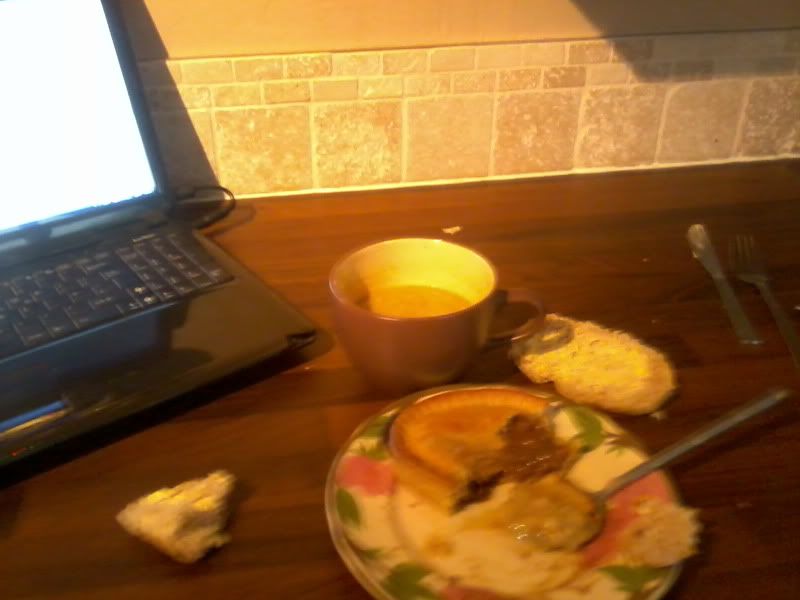 Another, pastries and soup (together!), stems from my first job at Greenhalghs Craft Bakery when a 10 minute break meant shoving down anything in sight at lightening speed. Sausage rolls dipped in mushroom soup, were a popular choice, or my ultimate Dinner of Champions
(TM
) a beefsteak pie with pea and ham soup and a brown scotch bap! Anyway the point of these scandalous disclosures is that on this particular day I ordered another of my guilty little pleasures: a prawn cocktail. There I've said it! And I'm not ashamed! I don't care how 70's it is, how many times it's sneered at on a Come Dine With Me menu, I LOVE a good prawn cocktail! The juicy prawns, the crisp lettuce, the bite of an optional cucumber slice, the creamy indulgent tang of the marie rose sauce... I can never get bored of this much blighted starter. Throw in a hunk of good quality wholemeal bread and I'm yours!
And so, I found myself gazing at this somewhat hilariously presented dish:
When we spied this masterpiece with it's proud lettuce leaf bobbing through the restaurant, looking like it belonged on the headdress of Little Plum (read the Beano you philistines!), my sister and I couldn't help but stifle a giggle. Ah well, better than the usual half cucumber sliding it's way down from the edge of your glass! And it tasted great. Not mind blowing, but fresh, light and with plenty of bubbly prawns. My only critisism is that the bread was a little bit on the chewy side. Darling Sister went for the Baked Cheddar Mushrooms in an alfredo sauce. She didn't seemed to mind it but I felt it was a little tasteless and the promised sauce was quite watery; I wouldn't recommend.
For my main meal I ordered the seabass; something I'd never tried when eating out before so I was very excited. And I wasn't dissapointed:
Oooo a nice big picture for you to gander at there. My my MY this was a good meal. The white fleshy fillet was wrapped in pancetta and served in a saffron and cream bisque. These flavours complimented each other beautifully without overpowering one another, and were perfectly matched by the subtly herbed 'crushed' new potatoes, and a variety of seasonal greens. I really, really enjoyed this dish and am thinking of trying to recreate something similiar for the family (I'll keep you updated...). Beloved Sister had the fish and chips, which again was nothing too creative but did the job.
Linguine from my 2nd visit


This meal was a definite success for me and after visiting again since I can safely say that this is a branded restaurant I won't be avoiding in the future. I hope they change with the seasons, continuing with the more inspiring dishes and either ditching or sprucing up the bland dull failsafes. Then they'll definitley be onto a winner.
P.S. it's been my 23rd birthday today (18th July) and I had a lovely day/weekend involving a Snoop Dogg gig, friends and family get togethers, thoughtful presents and lots of food. We went to the Fiveways in Ormskirk for the family meal today and I'll be posting on this soon as I've visited four times now and simply must tell you about it!